A unique course developed by qualified and experienced professionals. It brings together the latest neuroscience and long-established mindfulness traditions. This class is unique in Western Australia.
Great for both men and women.
This 8-week course combines three interrelated practices to support you to develop mindfulness in your life:
Formal mindfulness practices (and discussion of key principles)
Gentle stretching
Meditation practices to develop positive emotions
We create a friendly and safe atmosphere. Everyone is welcome.
The benefits of this course include:
Understanding how to cultivate mindfulness in your daily life
Enhanced physical and mental wellbeing
Becoming stronger and more flexible
Feeling deeply relaxed and restored from the first class
Feeling calmer, lighter and more aware
Feeling happier and more resilient
upcoming courses – south and north of river
TERM 4
What: 8-week Mindfulness – From the Inside Out course
When: Thursdays 6:30 – 8 pm, 12 October – 30 November 2017
Where: Southcare Hall, cnr Bickley Cres and Pether Rd, Manning
Cost: $199 (or $160 concession)
What: 8-week Mindfulness – From the Inside Out course
When: Wednesdays 6:30 – 8 pm, 11 October – 29 November 2017
Where: St Catherine's House of Hospitality, 113 Tyler St, Tuart Hill
Cost: $199 (or $160 concession)
TESTIMONIALS

"I very much enjoyed the mindfulness program… you have a lovely presence in your work." Maggie – psychologist and consultant

"I have registered for your next course, which I am really looking forward to. I have found the combination of mindfulness, yoga and meditation to be enormously beneficial – thankyou to you and Tas for your very caring approach." Julie – on signing up for her 5th course!
This mindfulness class is conveniently located in Manning, close to the Perth CBD. Come straight from work.
About the Facilitators
At the moment classes are taught by Kathryn (solo) as Tas finishes her PhD.
Kathryn Choules (PhD) Kathryn teaches Mindful
ness and other forms of meditation, movtivated to support people respond to the challenges of modern living. She is the only person in WA offering public courses who is accredited through the Medical School of the University of Massachusetts to teach Mindfulness Based Stress Reduction. She is recognised as a senior meditation teacher by Meditation Association of Australian (professional body for teachers of meditation).
Tasmiah Masih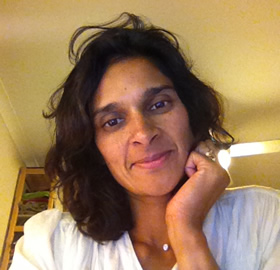 Tas is an accredited practising dietitian and yoga teacher (RYT 500hr+). She is also completing a PhD comparing the physiological and psychological aspects of stress and relaxation. Tas's main interest lies in helping her students find the nurturing power of meditation and relaxation, amid the daily circus of work, study and family.
Contact us for more information.
For information on public transport to the venues – Transperth
Photos by Kaylene Larkman