Tasmiah (Tas) Masih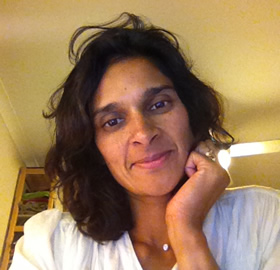 Tas is an accredited practicing dietitian, diabetes educator and yoga teacher.  Inspired by her belief in the scientific method, she is completing a PhD comparing the physiological and psychological effects of mindfulness, stress and relaxation. She first began yoga in 2005 and went on to train as an advanced yoga teacher in 2011. Although, her own practice began largely with the physical practice, over the years she has developed a particular passion for maintaining the 'inner practice' of silence, relaxation and meditation, and bringing this to both adults and children. This culminated in her training with Dr Judith Lasater (California) in Restorative Yoga and Sydney Solis (Florida) in Storytime Yoga for kids. As Tas juggles being a mother of three kids, a wife and daughter, a student and teacher, AND keeping sane, her sincere hope is to help people on the path to eating well , staying active, and finding calm.
Mark Simpson
Mark teaches yoga, meditation, mindfulness and wellness tools to people of all ages and backgrounds. He is motivated to help people towards the best version of themselves and finding a healthy, calm and connected way of being.  He is a qualified Yoga teacher (800 hour training – Level 2 & Cert IV) and a qualified Holistic Lifestyle Coach. Qualifying as a lawyer in the UK led to 20 years working in the corporate world and Not For Profit sector. This ensures that Mark's approach is grounded in the reality of the modern workplace. He has facilitated personal development and wellbeing programs in schools and companies. Mark recently attended an international retreat on "Compassionate and Mindful Leadership" at Plum Village (home of Mindfulness teacher and Zen Master Thich Nhat Hanh).
Anne Courtney
Anne works with individuals, teams and organisations as a coach, leadership consultant and retreat facilitator. She is a Professional Certified Coach (PCC) with the International Coach Federation and has trained in ontological coaching, an approach that offers a comprehensive framework for building self-awareness and enhancing personal and leadership effectiveness.  She has been involved in coach training for 10 years and is currently a Supervisor for the Vocational Graduate of Ontological Coaching with Newfield Institute.  Anne is licensed to administer Print and Myers Briggs Type Indicator (MBTI) profiling tools.
Anne works with managers, teams and organisations who appreciate that the quality of their human interaction has a direct impact on their ability to effectively meet their organisational purpose and are therefore committed to deepen that capacity within themselves and their organisation.
Anne facilitates public and customised retreats based on ontological distinctions, Circles of Trust principles (Center for Courage and Renewal) in conjunction with a mindfulness practitioner.
Anne has over twenty five years' experience of working in the community sector as a manager, social worker, youth worker and in community development roles.
Nicky Howe
Nicky is the CEO of Southcare and a leadership and management coach, with over 25 years senior management experience working in government and not-for-profit sectors in the areas of employment, education, welfare, health, aged care and community services.
She is passionate about building more effective workplace relationships and uses a consulting, coaching approach to help people achieve their objectives. Her interests focus on the development of people and building the capacity within organisations so they can successfully achieve their objectives.
Nicky holds university qualifications as a Doctor of Business Administration, Post Graduate in Public Sector Management and BA in Public Administration, she also holds a Diploma of Ontological Coaching, Australian Institute of Company Directors Diploma and is an Adjunct Professor in the School of Business at The University of Notre Dame.
Nicky co-facilitates leadership and well-being retreats, reflective and learning spaces and provides one-on-one leadership and management coaching.
For your wellbeing and that of your workplace – contact us to discuss a personal mindfulness session, course or workplace group training.